The first blue laser in the world which makes it possible to perform surgical and therapeutic treatments.
High-technology is combined with the distinct characteristics of a 445 nm blue wavelength, which makes it possible to perform surgical treatments without bleeding, minimizing the risk of infections, and achieving an excellent aesthetic result. In synergy with the blue light, also 660 nm and 970 nm are used, as they provide support for superficial and deep biostimulation of tissues.
K-Laser Blue does not need maintenance; its consumables are low-cost and it enables one to work in maximum security. Moreover, K-Laser Blue is powerful, compact, light, transportable and its batteries are rechargeable. All surgical components can be sterilised. Also, K-Laser Blue technology is always updated thanks to its Wi-Fi connectivity.
K- Laser Blue is the combination of three different lasers- blue laser, infrared laser and red laser which give it it's unique properties. We offer three different versions to suit your needs- K-Laser Blue Med for surgeons, K-Laser Blue Derma for dermatologists and K-Laser Blue Dental for dentists. Find out more below.
The first blue laser in the world which makes it posisble to perform surgical and therapeutic treatments.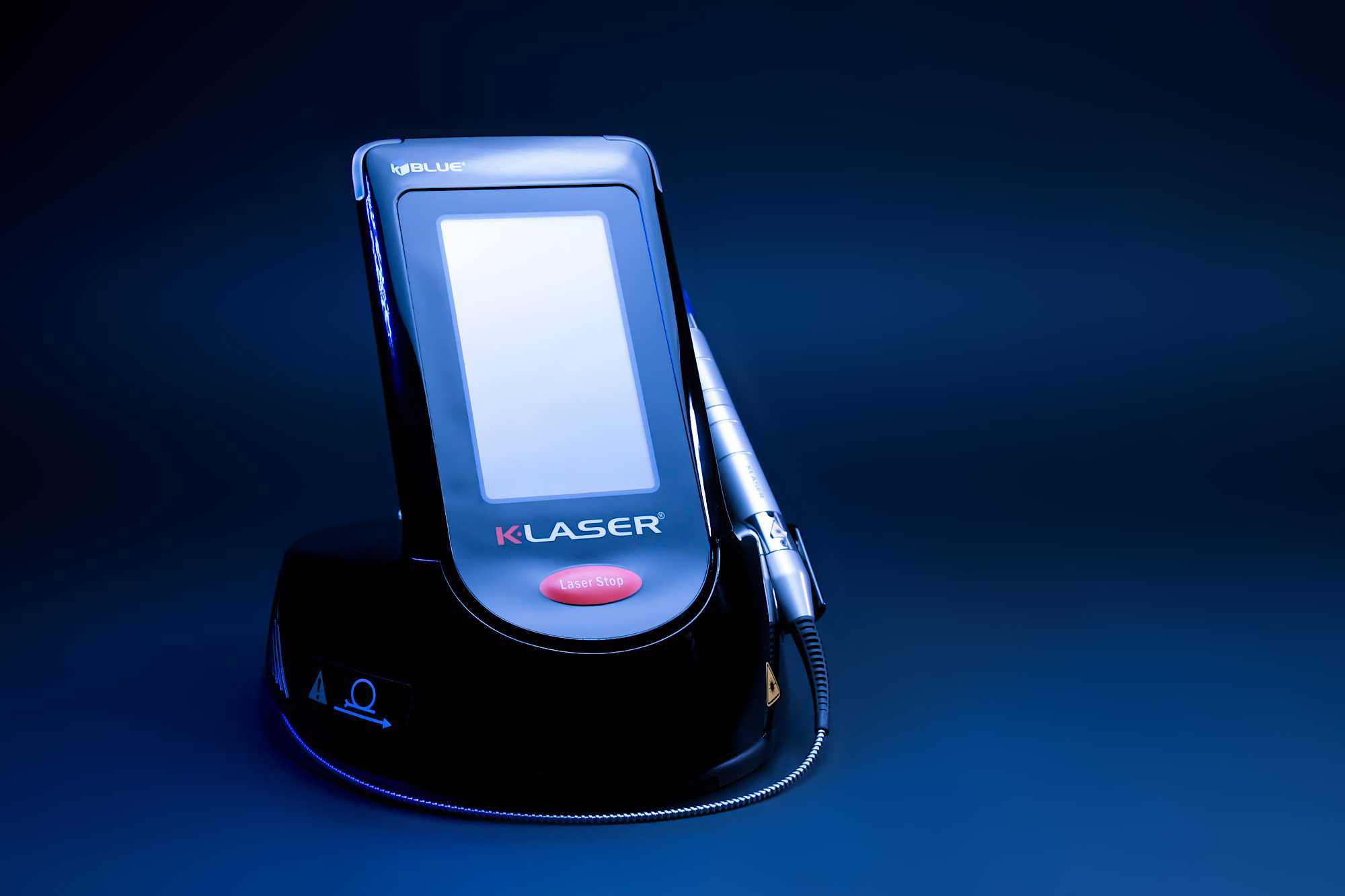 THE IDEAL TOOL FOR THE COSMETIC SURGEON
SURGERY:
Dermatological surgery
Vascular surgery
Laser Liposuction surgery
Gynaecological aesthetics
Skin Tightening/ Resurfacing
Podiatry
THERAPY:
Dermatological therapy
Tissue therapy
Photodynamic Therapy PDT
Pain therapy
Facial Rejuvenation
Skin Infections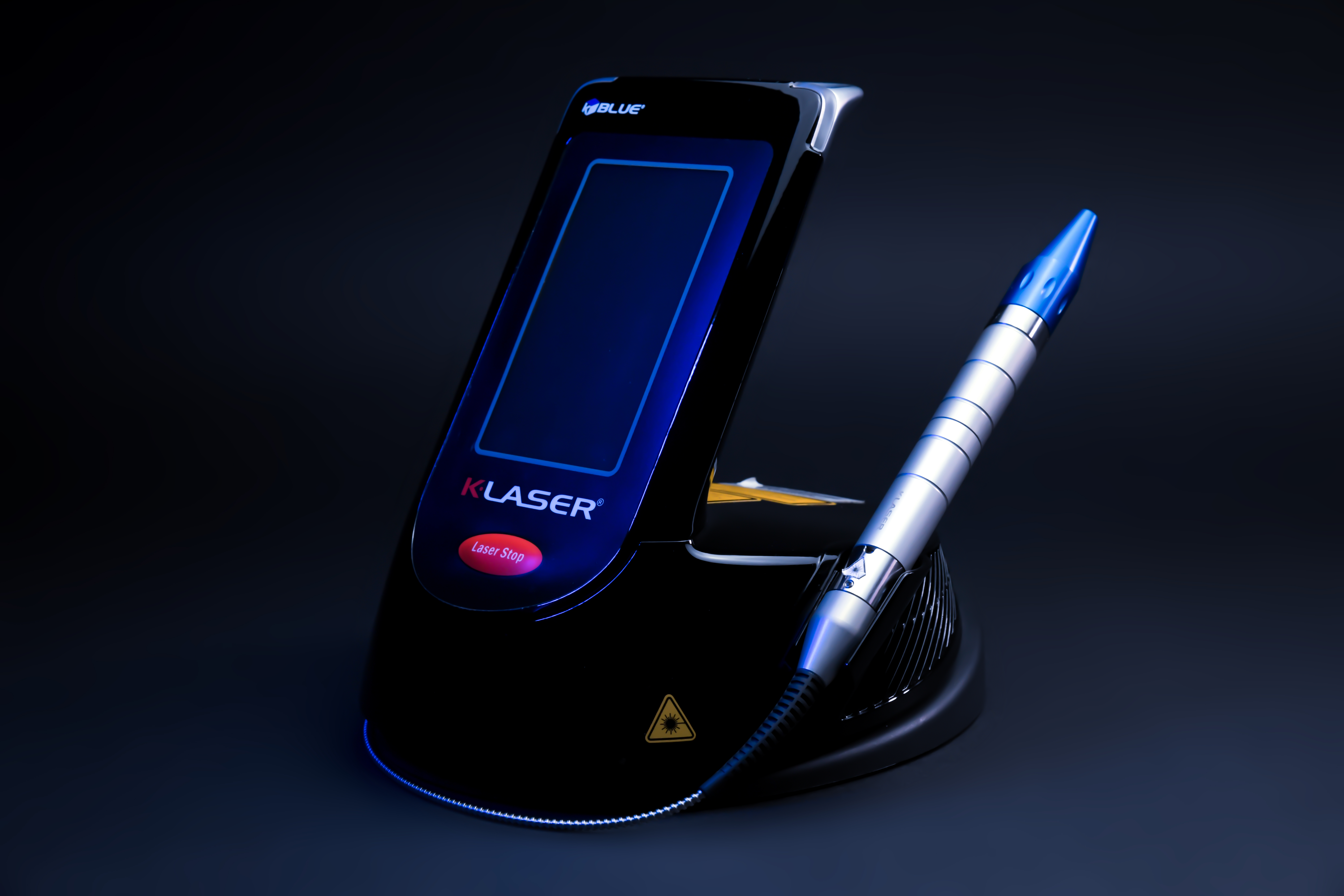 THE IDEAL TOOL FOR EVERY DOCTOR AND ESSENTIAL FOR THE DERMATOLOGIST
SURGERY:
Dermatological surgery
Dermatological treatments
Vascular Lesions
Podiatry
THERAPY:
Dermatological therapy
Tissue therapy
Photodynamic therapy
Pain therapy
Facial Rejuvenation
Skin Infections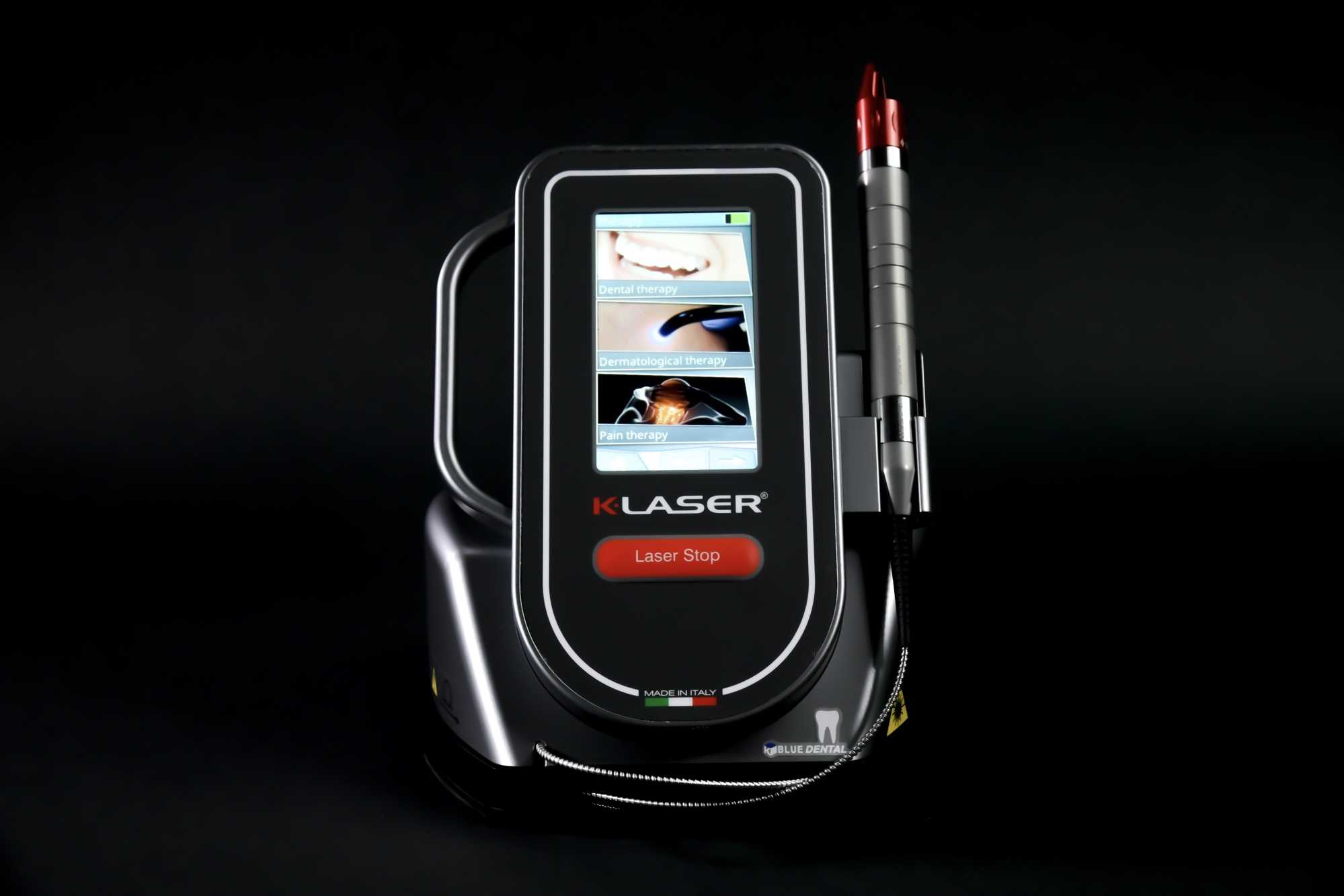 THE MOST VERSATILE AND PERFORMING LASER FOR THE ODONTOLOGIST.
DENTAL TREATMENTS::
Dental surgery & Biopsies
Implantology & Endodontics
Periodontology
Endodontics
Restorative dentistry
Dental hygiene& Teeth Whitening
Pain Management
Aesthetic Dermatological Surgery Aesthetic Vascular Lesions
Aesthetic Dermatological TherapiesMucositis and Infections
Are You Interested In Learning More?
If you'd like to expand your knowledge on the use of lasers then joing one of our webinars run by leading speakers and experts. Alternatively, if you'd like to see the machine in action, book a demo! We will be happy to come and visit you and show you how things work.
Brochures, Downloads and Research
Whether you're a new customer or existing customer, our supporting material has something for you.
Request our brochure, watch our videos or browse our research library. If you have any questions please do not hesitate to contact us.
I have just treated a member of the under 18 team England and Sale Sharks. He had a long-term shoulder pain/injury that had kept him out of the squad for 6 weeks despite intense manual and medical therapies, the results after 2 K-Laser sessions were amazing, by the fourth session his physiotherapist has given him the OK to play for England in Poland in a few weeks.
Dr. Andrew St Clair Logan
We have had great success with tendinopathies, plantar fasciitis, backs and soft tissue injuries including trigger fingers. Our referrals have shot up without any marketing, to the extent we have had to employ more staff as all our clinics are at maximum capacity.
The K-Laser has increased the range and quality of treatments we can now offer our patients, used either in combination with existing chiropractic techniques or as a sole therapy. We have had some remarkable success stories from chronic, long-standing osteoarthritic or back disorders to acute musculoskeletal injuries and fracture repairs.
As a professional stunt man, I pick up an awful lot of injuries along the way. One particularly injury was a broken ankle I had, and although I was back on my feet in 2 weeks I was in a lot of pain. I had the pain for almost two years, until Stephen brought his laser... Within 3 sessions I was no longer in pain doing normal everyday things. Three sessions later, the pain was completely gone. I even managed to do a 16-foot jump and land on my feet as part of one of my stunts - after such a long time injured it felt like a massive breakthrough. I am so grateful for how the laser has helped.
I noticed an improvement in relief from pain after the first treatment which became more noticeable after Beth used the upgraded K-Laser device at week 5 and 6. The treatment reduced my pain significantly and provided more flexibility for longer between treatments. I will continue to have the K-Laser treatment on my regular visits and would recommend others to try the K-Laser device for their treatment.